State of the Art
PartnerGate relies on RcodeZero, the Anycast network of nic.at's subsidiary IPCom. The highly available DNS infrastructure of the Austrian registry offers a useful addition to the Unicast DNS servers operated by PartnerGate itself, the 5 locations of which are spread over Germany and are connected to the internet via different IP upstream providers.
Currently, the Anycast network comprises 9 nodes distributed world-wide:
Brussels, Belgium
Dublin, Ireland
Frankfurt, Germany
Los Angeles, USA
New York, USA
Seattle, USA
Singapore, Singapore
Warsaw, Poland
Vienna, Austria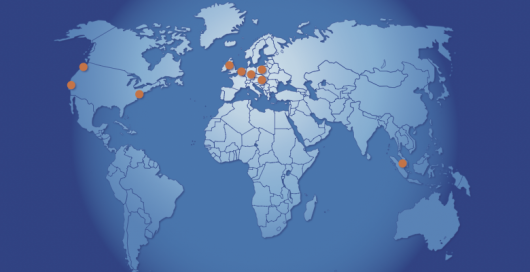 The locations of the Anycast nodes will be successively expanded in the next months. They are situated in the immediate vicinity of the respective local internet exchange so that they guarantee the lowest-possible latency.
However, the number of locations is not the only criterion for a highly performant network: Technical architecture and hardware play an even more important role. Each Anycast node disposes of two separate internet connections and two independent routers. The servers, hard disks and power supply are designed redundantly and that way provide for maximum fail-safety.
The capacity of each Anycast location is at about 500,000 DNS queries per second – i.e. in total 3 million queries per second in the entire Anycast network. The technical architecture meets all standards relevant to DNS, such as e.g. RFC (request for comments) 4786 of IETF (Internet Engineering Task Force).
The AnycastDNS nodes offer the DNS services via both, IPv4 and IPv6 and support DNSSEC. With DNSSEC, it is guaranteed with the help of a digital signature that the delivered data of the queried name server are correct and identical with the authoritative name server of the zone. Many domain registries have DNSSEC already in operation.
The name server installation is fully integrated into the PartnerGate ordering process, which guarantees an interruption-free ordering process with immediate DNS provisioning for the web-front-end user.
Own alias host names of the customer (e.g. ns1.firm-name.de, ns2.firm-name.de, etc.) can be installed for the partner and its resellers, when required.
Fail-safety: 100% availability of the DNS service guaranteed
Optimum performance: Improvement of the access time
Up to 100 resource records per zone inclusive
Easy administration via the PartnerGate web interface
Analysis options: Traffic statistics per zone
Quickest-possible fault clearance: Monitoring around the clock
Continuous extension: Server locations are continuously extended
Future-proof: Support of IPv6 and DNSSEC
Own DNS alias host names are possible
Integration of a hidden primary is possible
Flexible pricing model: Costs are only incurred for active DNS zones
No contract commitment: Monthly accounting and termination
No set-up costs, basic charges or minimum turnover